Products List
Bottling Line
Sachet Packing Machine

Company: Lantytk® Corp
ADD: NO.5558 CHUANSHA ROAD, PUDONG DISTRICT, SHANGHAI, CHINA
E-mail:globalsales2013@gmail.com
Pre-sales Service:
Free consultation is welcome, including technique discussion, equipment specifications, and other special requirements of clients.
Meanwhile, a suggestion notebook is reay for our clients, and this notebook mainly consists of three aspects:
1.Clear equipment picture.
2.The latest technologies used for manufacturing specific machines at home and abroad, and comparison description will be given in detail as well.
3.GMP craft design, and particular process description.
4.Information about the spare parts will be given.
5.Different quotes will be given by subentry.
In-Sales Service:
1.Always stay in touch with clients, and welcome clients to inspect adn supervise our manufacture and installation processes.
2.We have equipment specifications, file card, tracking card, and correlative software for clients to check.
3.Regular manufacturing information will be provided for clients.
After-Sales Service:
1.Our after-sales services is provided strictly accordign to the intenational after-sales standards.
2.One-year warranty period is available.
3.24-hour response service is possible.
4.Enough spare parts are ready for clients.
5.Return visits are regular, and corresponding records will be made.
Service Procedure: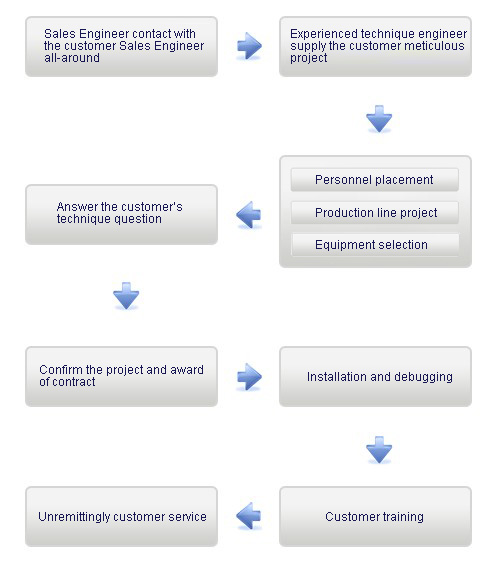 Related Products